The Master Electricians at Tauranga Electrical have been providing safe and reliable service in the Bay of Plenty for more than 20 years
No matter what your electrical requirements are, you can rely on Tauranga Electrical 100% for safe and reliable complete electrical services.
Tauranga Electrical was established in 1997 by John Box and Lyn Grainger. John partnered with Dean Giles in 2017 and today their six-strong team continues to grow a reputation as the best electricians in Tauranga. From one-off emergency call-outs through to complete electrical project management, our Master Electricians are here to take care of every electrical request.
To book a domestic or commercial electrical job, please contact us today.
Tauranga's one-stop-electrical-shop provide multiple services
Does your switchboard need upgrading? Perhaps you have recently moved to the Bay of Plenty and are building your dream home and require full electrical services from an established company? Perhaps your new building needs a new lighting design and electrical fit-out? Or perhaps your company requires a scheduled maintenance plan?
Our electrical services are extensive and include but are not limited to: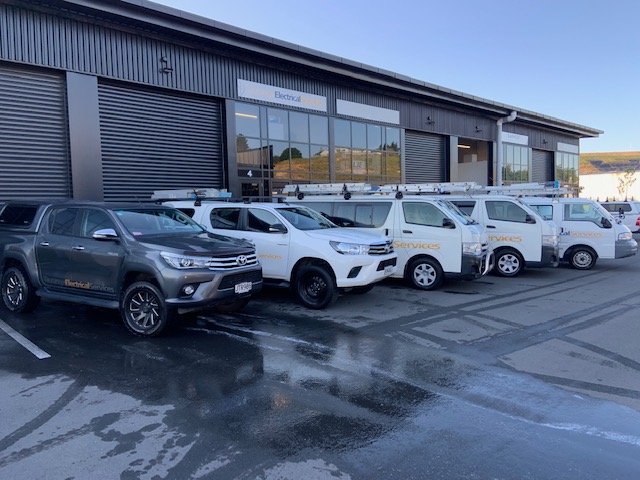 Seven reasons why Tauranga Electrical is one of the best electrical companies in the Bay of Plenty
Safety comes first - All electrical work comes with a certificate of compliance. To ensure safety and longevity of our work, only high-quality electrical parts are used. Please be assured that only high-quality electrical parts and products that comply with NZ standards are used. 
Courteous service - Our team pride themselves on being on time. If we are held up at our previous job, you will be notified. Your home is treated respectfully and we always clean up after ourselves.
Professional electricians - Our electricians are police-vetted, neat in appearance and wear matching uniforms. As Tauranga Electrical have been in the Bay of Plenty for over 20 years our reputation as one of the areas' best electricians is firmly established.
All workmanship is guaranteed - Tauranga Electrical stands behind the quality of each job undertaken and thoroughly guarantees our workmanship. You can read unsolicited testimonials from our customers about our complete electrical services.
Detail-oriented - Our electricians go out of our way to ensure every aspect of our work is executed accurately and neatly. After all, high-quality workmanship ensures paying close attention to every detail so that a flawless end result is achieved.
Works to deadline - if you have a new build or are carrying out extensive renovations in your home, multiple tradespeople will be involved. Our electricians will complete all work by deadline so that the next contractor after us isn't delayed.
Member of professional bodies - Our Master Electricians treat every electrical job seriously. Tauranga Electrical is a proud member of HazardCo and the Electrical Contractors Association of New Zealand.
To make an appointment, please contact Tauranga Electrical today. Our team look forward to meeting you and delivering a high-quality electrical service.
Interested in working with us?
At Tauranga Electrical, we always welcome enquiries from highly-skilled, professional electricians wishing to work with us. If you think you are a good fit, we'd love to chat. Get in touch through the enquiry form on the right.